Reblogged with permission from Pathway, IAIP's sponsor spotlight for April
So, your dutifully nurtured lead has said "yes" to your offer. Hurray! The deal is done, and it's time to celebrate with confetti and cupcakes, right? 
Well… not quite.
New clients don't stop shopping around just because they've chosen an insurance plan. They might renew their contract, leave a glowing review, or even refer other clients. But they'll always keep one eye on your competition to see if they can get a better deal elsewhere.
You can't force your insurance clients to stay loyal, but you can incentivize them to stay.
That's where your onboarding process comes in. A successful onboarding experience will build a trusting, long-term relationship with clients. A poorly planned, badly executed experience will have them offboarding at the end of their contract.
Below are eleven tips for successful insurance onboarding.
Set the tone: set up automated communication to break the ice.
The first thing your new insurance clients hear from you will set the stage for your relationship going forward. It's safe to say this first message is crucial — which is why you want to use automation to send it as soon as new clients sign up.
You don't need to be overly formal or detailed in this message. Instead, try including:
A greeting to welcome the client. For example, "welcome to (brand)" or "hello (name), it's great to meet you."
A relationship-building statement to make the client feel valued. For example, "we're excited to start our journey together" or "thank you for choosing (brand)."
A statement introducing the client to your brand and validating that they made the right investment. For example, "(brand) helps thousands of small business owners like you protect their businesses against disaster. We offer (insert your plan's features here)."
A Call-To-Action (CTA) to push the client to continue the onboarding process. For example, "please click here to see your insurance onboarding checklist" or "let's begin!"
Here's an example of an automated welcome email from Canstar.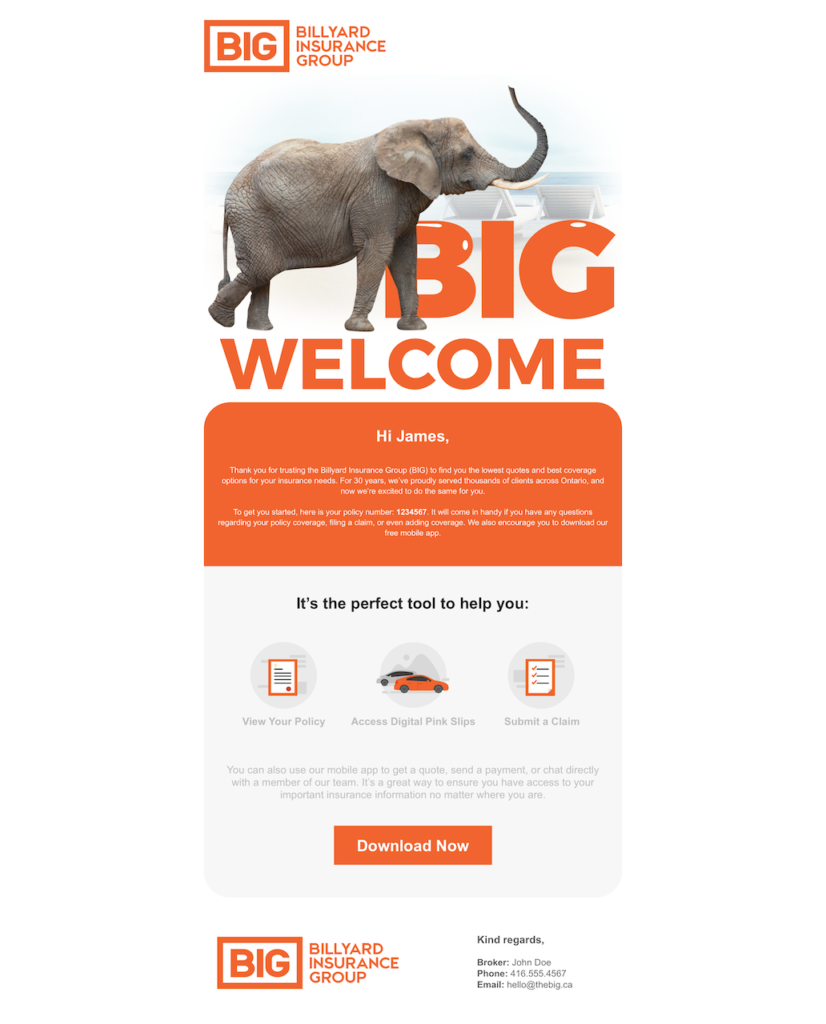 Forget the formalities; go for a personalized approach.
When your insurance clients call your customer service agents and salespeople, they expect a certain amount of personalization. For example, they expect your staff to address them by name, and they expect the conversation to feel natural and friendly.
The same is true for digital communications.
In the U.S. and the UK, a Statista study of 1,000 people found that 42% of consumers see digital personalization as "very important" or "somewhat important." Only 10% feel it's "not important at all."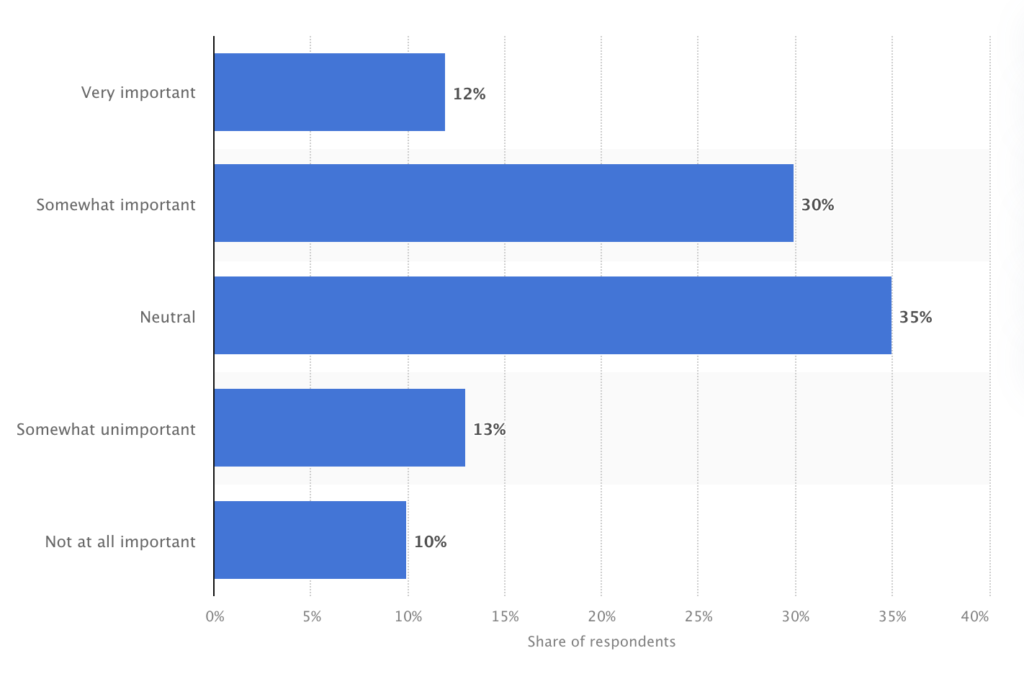 Your clients like personalization because it helps them feel recognized and valued as individuals, not numbers.
So, how do you provide a personalized experience?
Start by addressing all your client communications to the individual by name. Or, if your client is a business, address communications to the contact person.
Next, spice up your communications with warm and friendly touches. Try emotive language, a conversational tone, animations, gifs, images, or even emojis (depending on your branding).
Or, if you are using a live chat or a callback service, introduce clients to their customer service agent. Pathway does this — you always know the name and face of the person you're speaking to.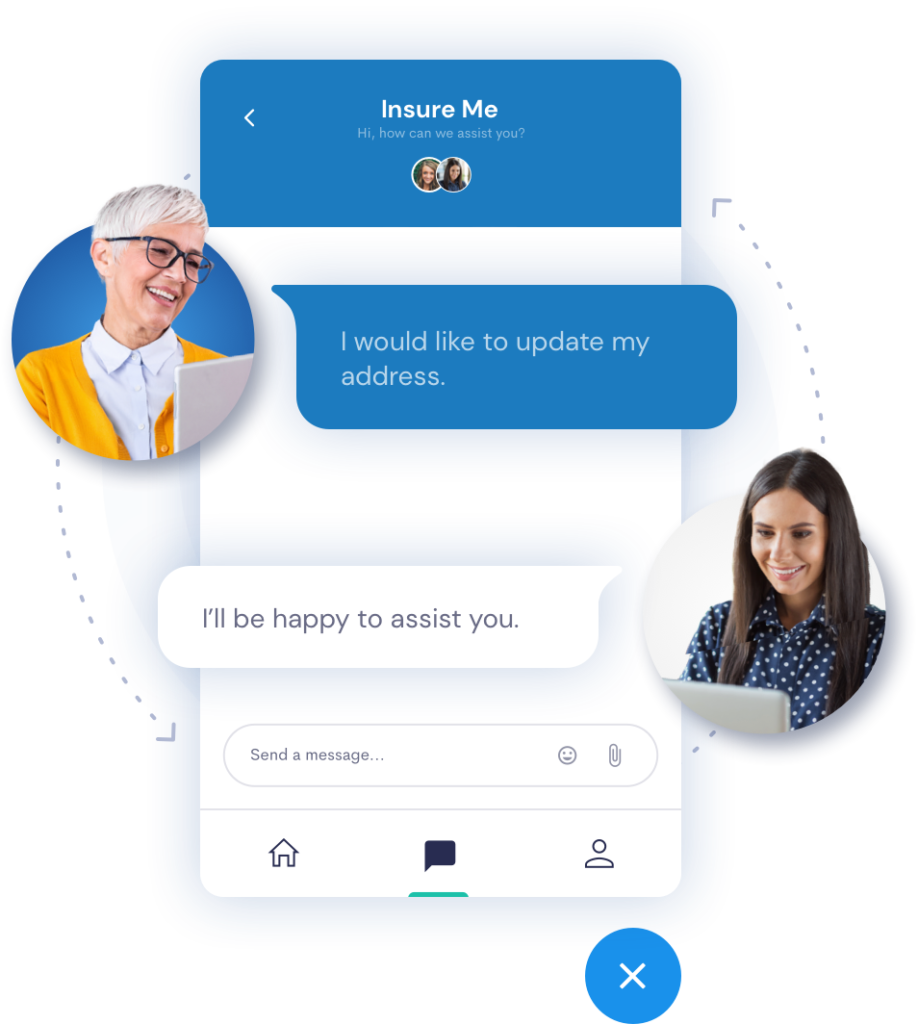 Finally, divide your clients into segments and only send targeted content that's personalized to each segment. For example, only update clients on a particular plan about plan-specific adjustments or only send clients with vehicle insurance car-specific marketing emails.
If it isn't relevant to your client, don't waste their time with it.
Provide a welcome brochure.
Some insurance clients feel a tad overwhelmed when they onboard, as they have important documents to complete, a new insurance process to adjust to, and a self-serve kiosk to learn to use.
You can help them navigate the onboarding process smoothly by providing a welcome brochure. A welcome brochure tells new clients everything they need to know and shows them where to find high-quality information when they need it.
Here are some things to add to your welcome brochure:
An introduction to your company (including your history, mission, and goals)
An onboarding video to introduce the lead to your brand
A detailed explanation of their plan
How to use your self-service system
An explanation of how to find help (including how to use your knowledge base and reach customer support)
Links to educational content (including blog posts, articles, tutorial videos, and your Frequently Asked Questions (FAQ) section)
Testimonials from happy customers
For best results, create a personalized welcome brochure for each insurance plan and send new clients their plan's brochure. This way, you won't overload clients with content that's not relevant to them.
Nurture your client's journey, don't rush them through it.
It may seem easy for clients to complete the onboarding process, but you never know what your clients are doing behind the scenes. They may have an internal work crisis to deal with, a new staff member to train, or a workload that's consuming every second of their busy workday.
To avoid becoming another stressor on their to-do list, nurture your new clients rather than pressure them.
One great nurturing technique is setting up an onboarding checklist that breaks the process into small, manageable tasks. This checklist should be fully self-guided so people can complete tasks at their own pace — like in this client onboarding checklist from Zapier: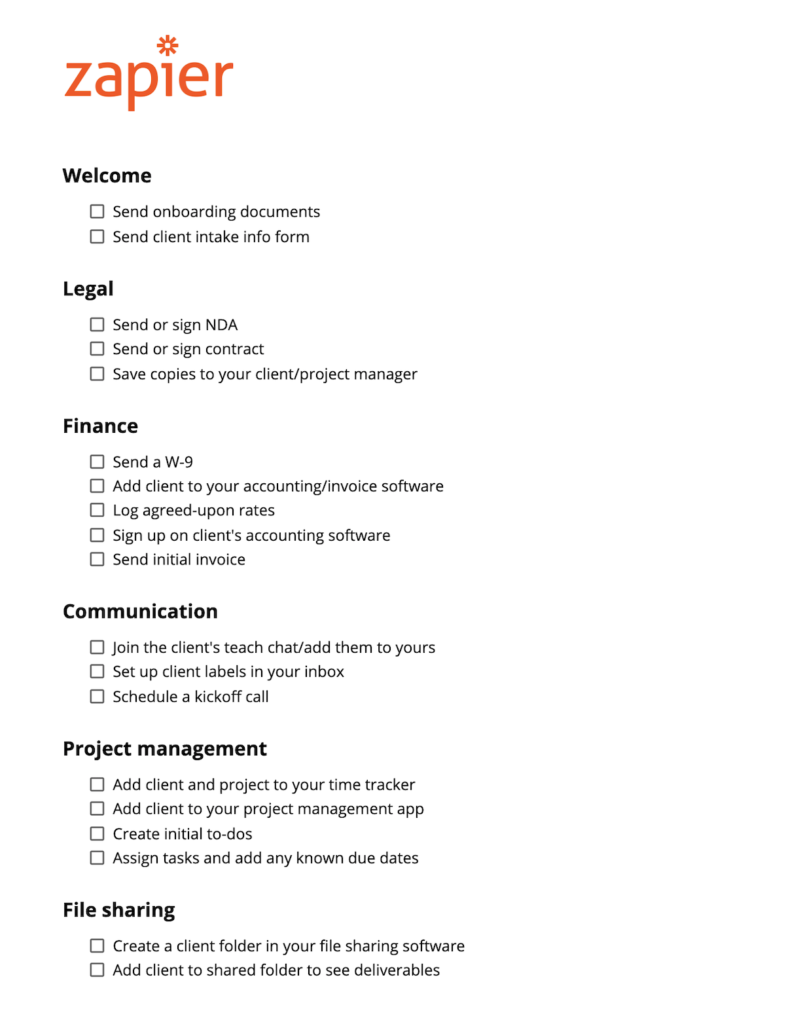 To maximize the chances your clients will complete the checklist, limit your list to only the most important action items. All non-essential tasks (like reading your blog or looking at your knowledge base, for example) can go into an "optional" section at the end.
Or, if your salespeople want to onboard clients over the phone, another great nurturing technique is giving the onus to communicate to your clients. Equip them with a booking tool and let them book phone, video, or face-to-face consultations at a time and date that works for them.
Be accessible to help clients onboard with ease.
It doesn't matter how easy you make the onboarding process: someone will always get stuck and need help. And when that happens, you want to be there to support them quickly so your new clients don't feel ignored.
"Quickly" in this context means within the same day (but likely faster). A SuperOffice and Jeff Toister study on 3,200 consumers from the U.S. and UK found that 46% expect companies to answer their queries in four hours or less, and 11.3% expect a response in 15 minutes.
Meeting this deadline may seem impossible, but it's easier than you think. You can reduce your response time by using multiple platforms, including:
Email
Live chat
Phone
VoIP or video calling
You can also provide self-service options like a chatbot, guided tutorials, a knowledge base, and a FAQ section. These options allow clients to solve common problems without speaking to anyone. They're also accessible 24/7.
Maintain a transparent billing process.
Being transparent with new clients throughout the onboarding process will help them understand their obligations and your responsibilities. This fact is especially true with billing.
To build a transparent billing process, tell your new clients upfront when payments are due and how much they owe each time. You also might like to offer calendar reminders or payment notifications with a tool like Office Bot, as these will help clients remember to make their payments.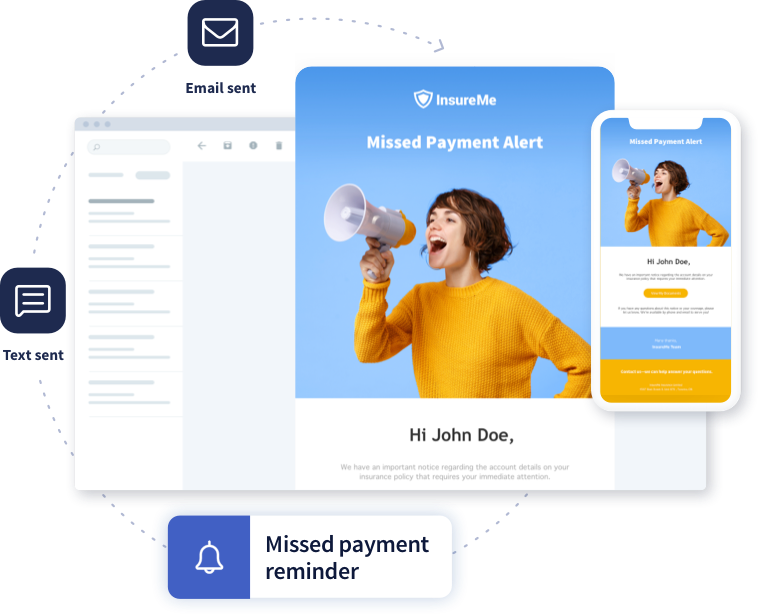 Additionally, use a transparent pricing model. If your pricing structure is difficult to understand, clients may feel you're hiding something from them.
If you charge penalties or cancellation fees, tell clients as they onboard so these don't come as a nasty shock. If you hit clients with an unexpected payment, it will sour the trusting relationship you've built with them.
Leverage technology effectively to streamline every process.
In previous decades, many of the administration tasks insurance companies performed had to be done by hand — including filing documents, client communication, and insurance agency marketing.
These repetitive tasks required manpower, resources, and time from busy agencies that would rather spend time with clients.
Today, agencies can get that time back by leveraging technology. For example, you can use:
Email marketing software. This software can send emails automatically, track email marketing metrics, and maintain your email subscriber list. Pathway's Marketing Bot also has this functionality.
Customer Relationship Management (CRM) tools. These tools monitor and improve communications with clients.
Document processing tools. These transmit and file digital documents for you.
Workflow automation tools. These help you schedule work tasks, manage to-do lists, and prioritize tasks so you can work more efficiently.
Form builder tools like Pathway's Form Builder. These tools help you create custom forms so you don't need to rely on paper ones.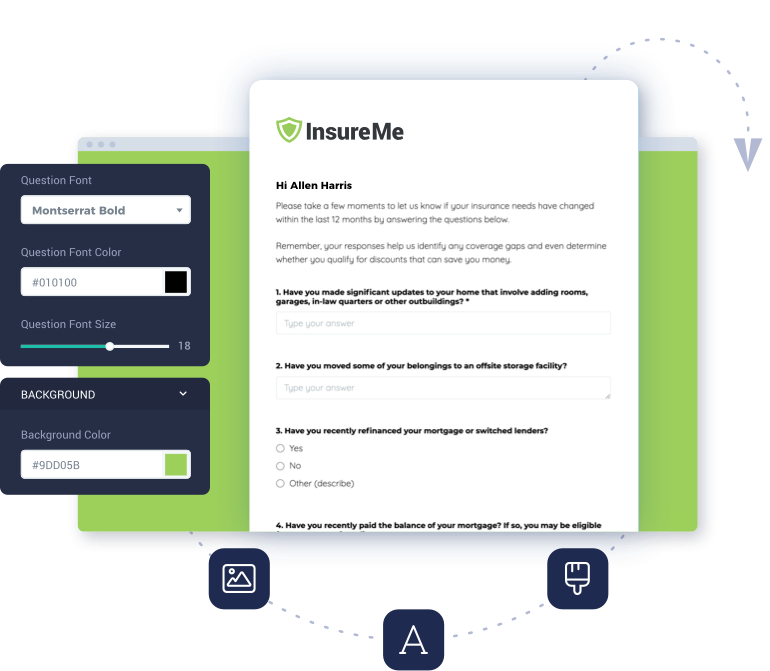 Celebrate successes by thanking your clients.
Like good communication and respect, gratitude is key in building a trusting relationship with clients. Showing clients gratitude by saying "thank you" makes them feel valued and appreciated — two feelings that will cultivate long-term loyalty.
There are many great times to say "thank you" — like at the end of a marketing email or the start of a call with customer service.
One of the best times is when you onboard a new client. Have your system thank clients after they complete each onboarding task, and say "thank you" in your welcome message and all customer communications.
If you want to take it one step further, try offering the client a thank-you gift. You could, for example, give them a discount on their first month of insurance coverage, or you could send them a $10 e-gift card. These small acts will foster your client-agency relationship and help it grow.
Be in constant contact with your client.
If you make customers feel like you forgot them during the onboarding process, they will reflect that energy onto you. So, to keep clients engaged in the process, maintain a continuous stream of communication.
You don't need to email or text clients daily. Instead, use different mediums to reach out to them at key intervals. For example, you could:
Send follow-up emails reminding clients to complete key tasks
Have a sales representative call the client a few days after their coverage has started to ask if they have any questions or need assistance
Send an SMS message with updates (like the day their coverage started, payment confirmations, claim updates, etc.)
Send reminders via your self-service kiosk
Proactively send updates on product and policy details.
Some clients don't like change, which can make informing them of updates to their insurance plans tense. To make it easier, be proactive and give clients ample notice when you need to adjust:
A plan's scope and features
Pricing
Changes to your internal systems or processes
These emails should cover all changes and how they will impact clients clearly — like in this example from Pacific Cross Insurance.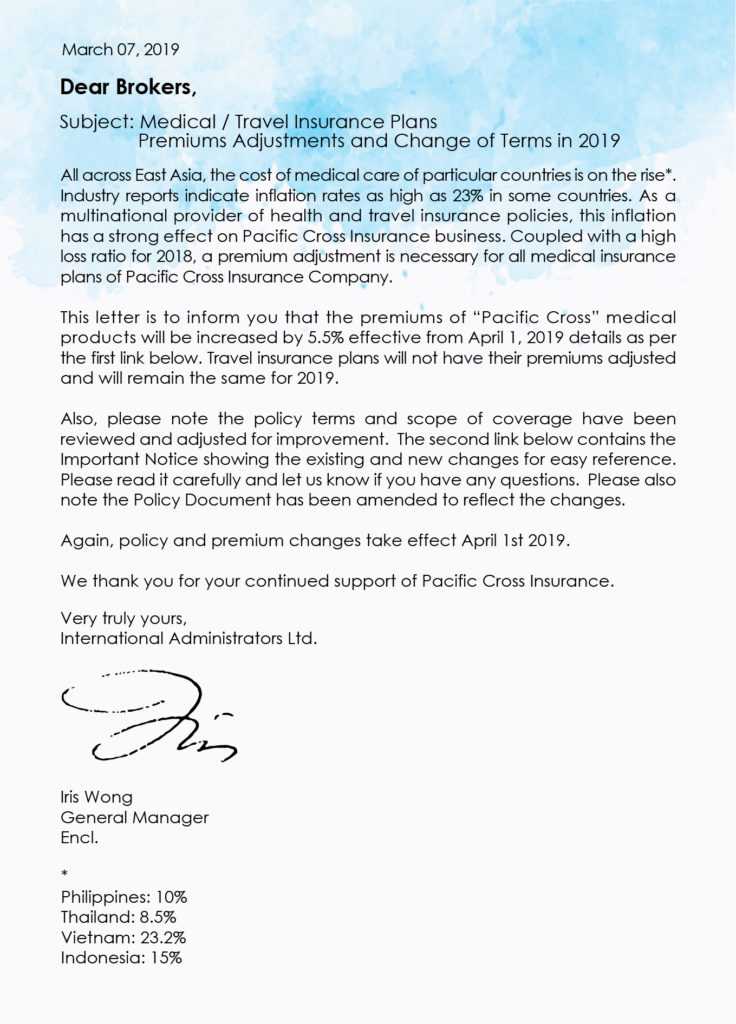 This tip isn't onboarding specific, but you should lay the groundwork for it during the onboarding process. Tell new clients when and where to expect updates when they join so they know to watch for them.
Create a seamless experience for your clients.
Finally, consider how seamless your onboarding process is by looking at how each element works together.
Are there multiple areas where clients need to provide the same information? Is a particular widget slow and unintuitive to use? Is the wording in a process convoluted or confusing? Are your internal links slow? These issues may seem small, but they will frustrate new clients and decrease their satisfaction with the onboarding experience.
Go through the onboarding process yourself, identify frustrating or annoying elements, and fix them. Don't forget about your clients' opinions, either — ask for feedback on improving your onboarding processes and implement common suggestions.
Onboard the right way with Pathway!
Onboarding new insurance clients successfully will build trust, thus reducing client churn, increasing sales, and growing your loyal client base.
To set up a successful insurance onboarding process, make sure you introduce your brand warmly, send clients all crucial information upfront, show gratitude, maintain contact, and use insurance agency marketing tools to your advantage.
One such tool is Pathway, an all-in-one insurance automation tool that can help you make your insurance marketing, sales, and onboarding process seamless. Pathway offers:
Sign up today to try Pathway's insurance automation solution.